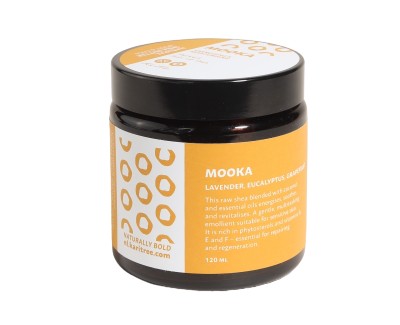 MOOKA lavender, eucalyptus, grapefruit
MOOKA




Energising Body Butter
Size: 120ml
Mooka is, without a doubt, the "lively" one of the bunch. With its wholesome blend of natural ingredients, this all-over body moisturiser not only soothes and revitalises, it also leaves your skin deeply hydrated and fighting fit.
Ingredients: 
Shea butter, coconut oil, lavender essential oil, eucalyptus essential oil, grapefruit essential oil, grapefruit seed oil
Instructions: 
Warm butter in hands and apply sparingly.
NO PRESERVATIVES, ADDITIVES OR CHEMICALS
NOT TESTED ON ANIMALS, ALL NATURAL & VEGAN