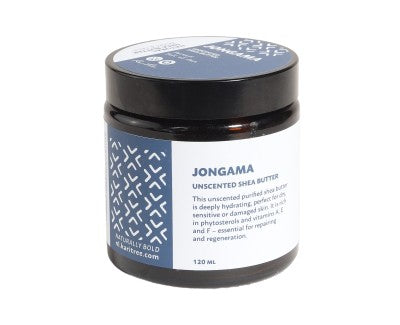 JONGAMA - Purified, Natural, Unscented
JONGAMA
100% Purified Shea Butter
Contains: 60ml / 120 ml
This unscented purified Shea butter is deeply hydrating, perfect for dry, sensitive or damaged skin.
It is rich in phytosterols and vitamins A, E and F - essential for repairing and regeneration
For Face and Body
No added colour or fragrance
Available in 60ml and 120ml
Ingredients: 

100% Butyrospermum Parkii
Application: 
For every day use. Warm butter in hands and apply sparingly. Expect Jongama to absorb quickly and dry matt.


One of our key points of difference to many other high-street brands is that our products don't contain water or alcohol so you need to use less to achieve the same results and thereby get maximum value for your skin and your purse
OUR PRODUCTS ARE MADE IN SMALL BATCHES, ALWAYS GIVING YOU THE PERSONAL TOUCH, WE USE PURE RESPONSIBLY SOURCED INGREDIENTS ALLOWING YOU PEACE OF MIND THAT WE CARE AS MUCH AS YOU DO ABOUT OUR EARTH, NATURE AND ANIMAL FRIENDS



PACKAGED IN GLASS POTS