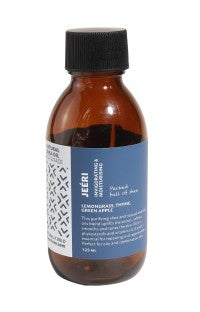 JEÉRI lemongrass, thyme, green apple body & face
JEÉRI




Invigorating Body Oil
Size: 125ml
Jeéri is the "cool" one of the bunch with its unique and refreshing blend of natural oils.
This all-over body oil leaves your skin calm, toned and deeply hydrated.
Ingredients: 
Shea oil, grape seed oil, green apple essential oil, lemongrass essential oil, thyme essential oil, grapefruit seed oil
Instructions: 
Warm oil in hands and apply sparingly.

Also suitable for massage and bath.
Tip: Perfect for daily use on wet skin after shower, 
Packaging: 
We use amber glass bottles which are fully recyclable and preserve the integrity of the essential oils. Furthermore choose between the two cap options available, a no plastic aluminium screw cap and a reusable Plastic pump.
Tip:
Most of our customer purchase their first bottle with the reusable pump and following ones with the aluminium screw cap, thereby reducing their plastic usage.
NO PRESERVATIVES, ADDITIVES OR CHEMICALS
NOT TESTED ON ANIMALS, ALL NATURAL & VEGAN

Not suitable for expectant Mums.