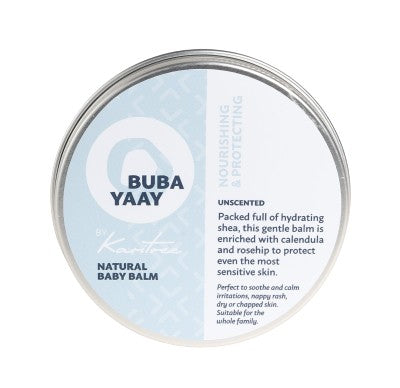 Buba Yaay Baby Balm Unscented
BUBA YAAY BABY BALM UNSCENTED
Nourishing & Protecting
NEW IN OUR RANGE
Contains: 150 ml
Packed full of hydrating Shea, this gentle balm is enriched with the active properties of Calendula and Rosehip Oil to protect even the most sensitive skin.
Calendula is traditionally used to aid in healing wounds and sores making it perfect to soothe and calm irritations, nappy rash, dry or chapped skin for Mum's and Babies and also wonderful for other members of the family who need some support with symptoms of acne, eczema or psoriasis.
Ingredients:                                                                                                    Butyrospermum Parkii (Shea) Butter, Prunus Armeniaca (Apricot) Kernel Oil, Rosa Canina (Rosehip) Fruit Oil, Calendula Officinalis (Calendula) Flower Oil, Linalool, Citrus Paradisi (Grapefruit) Seed Oil
Application: 
A small scoop of this super smooth balm goes a long long way so we recommend to apply sparingly. Buba Yaay will melt on contact with your skin, expect it to absorb quickly and leave skin looking matt and feeling soft.
For daily use as an all over body moisturiser, also suitable for massage 

 One of our key points of difference to many other high-street brands is that our products don't contain water or alcohol so you need to use less to achieve the same results and thereby get maximum value for your skin and your purse
OUR PRODUCTS ARE MADE IN SMALL BATCHES, ALWAYS GIVING YOU THE PERSONAL TOUCH, WE USE PURE RESPONSIBLY SOURCED INGREDIENTS ALLOWING YOU PEACE OF MIND THAT WE CARE AS MUCH AS YOU DO ABOUT OUR EARTH, NATURE AND ANIMAL FRIENDS



ZERO PLASTIC PACKAGING