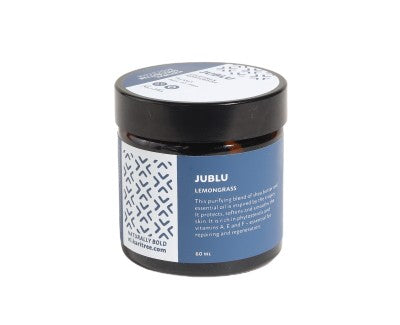 JUBLU lemongrass,
JUBLU

Uplifting Body Butter
Size: 60ml
As the "extrovert" in our range of all-over body moisturisers, Jublu expresses itself through its naturally uplifting, purifying and moisturising properties, leaving your skin deeply hydrated.    
Ingredients: 
Shea butter, lemongrass essential oil, grapefruit seed oil
Instructions: 
Warm butter in hands and apply sparingly. Leaves skin matte.
NO PRESERVATIVES, ADDITIVES OR CHEMICALS
NOT TESTED ON ANIMALS, ALL NATURAL & VEGAN
Not suitable for expectant Mums.