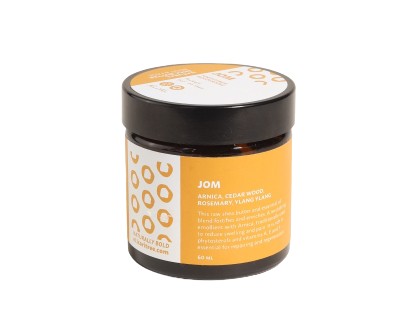 JOM with ARNICA
JOM with Arnica
Fortifying Body Butter
Size: 60ml
Jom is our "charmer". Its alluring blend of natural essential oils and raw Shea butter works its charm as an all-over body moisturiser, benefitting your skin with its deeply hydrating, enriching and revitalising properties. 
A fortifying emollient with ARNICA, traditionally used to reduce swelling and pain it is perfect for use on joints and bruises.
Also ideal as a soothing, smoothing anti-inflammatory, anti-wrinkle face butter as it contains a number of compounds which are great for rejuvenating the skin. 
It is rich in phytosterols and vitamins A, E and F - essential for repairing and regeneration.
Ingredients: 
Raw Shea butter, Arnica Montana, Cedar Wood essential oil, Rosemary essential oil, Ylang Ylang essential oil, grapefruit seed oil
Instructions: 
Warm butter in hands and apply sparingly. Leaves skin matte.
NO PRESERVATIVES, ADDITIVES OR CHEMICALS
NOT TESTED ON ANIMALS, ALL NATURAL & VEGAN
Not suitable for expectant Mums.